Design and Development of Mobile Application
Development of Mobile App
Right Click is proud to be at the forefront of the app and mobile application development industry. Whether you need an Android or iOS version, our skilled team of designers and developers are adept at creating fascinating and innovative solutions that meet your unique needs. We take a user-centric approach, carefully considering the pros and cons of each application to ensure that they are intuitive and user-friendly. Our developers stay up-to-date with the latest trends in mobile technology, and we use this knowledge to help our clients execute their vision and produce cutting-edge Android and iOS apps. We are committed to helping our clients achieve success in the mobile marketplace, and we are passionate about creating applications that make a lasting impact.
Delivering Stellar Services Of Development Of App
Are you ready to take your business to the next level with a top-notch app?
In today's digital age, having an app is essential to stay ahead of the competition and connect with your audience.

At Right Click, our team of expert developers specializes in mobile (Android and iOS) and desktop app development. We take the time to understand your business goals and strategies to create an app that will skyrocket your business.

Our full cycle of application design, integration, and management services ensures that we provide a comprehensive solution for your app development needs. We offer custom mobile app development services that include cross-platform app development to help you reach your target audience through multiple devices. Our secure, scalable, and sustainable apps work in every scenario and help boost your business's profitability.
Whether you need a consumer-centric app or an enterprise-class solution, our app developers will guide you through the entire app development process. From ideation and concept to delivery and post-service maintenance, we create apps that meet market demands, reflect your brand's identity, and fuel your company's growth and expansion.

If you're ready to take the next step in mobile app development, you've come to the right place. Hire Right Click to create a cutting-edge app that will help you reach and engage with your customers like never before.
iPhone Apps
In today's world, the iPhone has a massive user base, and it's considered the top-of-the-line version. At Right Click, our developers are dedicated to making it even more valuable for our clients. We specialize in building applications that can compete at an international level and get the ball rolling for your organization. We'll work closely with you to create an app that not only meets but exceeds your expectations. Trust us to deliver cutting-edge technology that will elevate your business to the next level.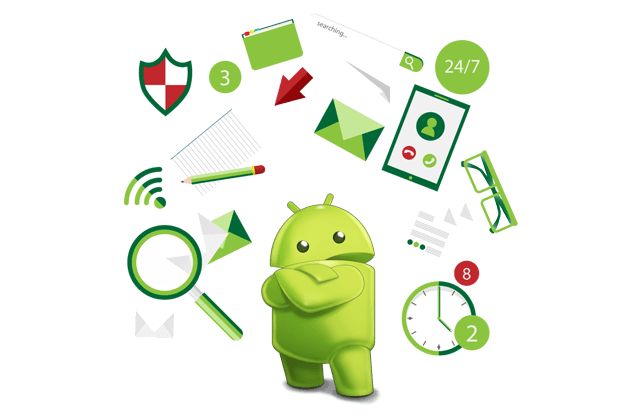 Android Apps
We excel in creating cutting-edge and profitable applications that push the boundaries of innovation. Our team can deliver groundbreaking applications in a short amount of time, providing comfort to the vast population of Android users. As a leading app development company, we offer a comprehensive one-stop solution for all your Android application needs.
Our applications are revolutionizing the way we live, work, and interact with technology. We understand that technology is a driving force for progress and we are at the forefront of this change. In today's world, technology is an integral part of our lives, and we strive to harness its power to make our lives better than ever before. With our innovative and modern approach, we are second to none in the field of app development.